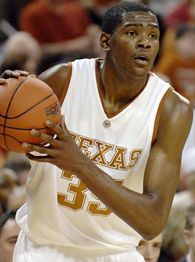 I wish I had posted this one 3 months ago so that I could look like a genius, instead of posting now and looking like a copycat. The fact is, before the season started I predicted the Texas Longhorns to do much better than most analysts had prognosticated. I had them 12th overall, while experts put them at #26. Looking at the rankings today, they are ranked 15th by the Associated Press, 14th by USA Today and ESPN.
The reason they had ranked Texas so low no doubt is because they lost 3 key players to the NBA: LaMarcus Aldridge (who many thought the Raptors should have taken 1st overall), PJ Tucker (the player Toronto *did* draft, albeit in the second round), and point guard Daniel Gibson. These 3 were the core of their team and the reason they were one of the top ranked teams in 2005. So it's only reasonable to expect a team devastated by 3 core players declaring for the NBA, to suffer the following year. So why in the heck did I rank Texas 12th?
To clarify, this isn't a post about me showing off that I predicted a team higher than everyone else and that I turned out to be right. If you look at my rankings (made November 27, 2006), no where do I have Wisconsin ranked -- yet they're the 3rd best team in the country (I mean.. who could have seen Alando Tucker's rise to the top on his 5th season?!). So yea, I'm not here to tell you how smart I am.
Unless you don't follow college ball or the NBA, you already know the name -- Kevin Durant. KD is a name you'll be hearing a lot about come draft time, and during March Madness. This freshman could have been wearing a Raptors uniform this year if not for David Stern's age restrictions (forcing players to spend 1 year in college before coming to the NBA). Whether Durant would have been a better choice over Bargnani remains to be seen.. but you sure wouldn't be hearing critics complaining about the Raptors' inability to rebound and defend down low if we had him.
Kevin Durant can do everything Bargnani does, and then some. The 6-10 small forward defends (a word that is not even in Bargnani's vocabulary), blocks shots, steals, shoots 80% from free throw range, 41% from 3-point range, and is averaging 25 ppg and 11 rpg. Kevin Durant is uber talented, and has carried the Longhorns all season long. Barring injury, I would not be surprised at all if the Longhorns end up in the NCAA Elite Eight. Heck, they could probably make it to the Final Four. Okay.. realistically speaking I can't see them making the Final Four.
I'm not saying Texas is gonna take it all, but with Durant leading the way I don't see why they can't surprise a few teams. They almost beat 2nd-ranked Kansas on the weekend, where Durant scored 25 in the first half and then was held to just 7 in the 2nd after he was injured. Hey, if Carmelo could pull off what he did in Syracuse on an extremely strong draft class (likely the greatest draft class in NBA history), I definitely think Durant has the potential to do something similar.
I will post more as we get closer to March Madness, including a final revisitation my poll ranking predictions.