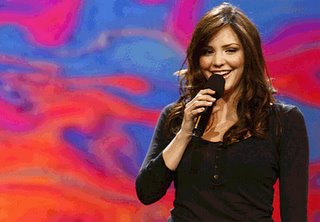 I got to hear a recording of a few of the American Idol singers. I was happy to hear that the future Mrs. Brian Yao is still in the competition. The recording I heard of her was awesome. She sang "Think" by Aretha Franklin, and it was just fantastic. Her voice is good enough that you can't tell if she's exerting herself to hit the difficult notes -- it seems to just comes naturally. I wish I could have seen it. I mean look at her -- what a cutie..!
I think Katharine McPhee will definitely finish in the top 2 women. People are saying that this year will be a guy's turn to win it. No matter.. after she displays her talents on AI, Katharine will sign a record deal and still be successful. What can I say.. I've got McPhee-ver!
I made my infamous Beef Brisket again last night, for a potluck we're having tonight's small group. The guys and girls are splitting to do our own thing and the guys decided to do a potluck. I told this to one of my co-workers and he asked me what the point was to cook for a bunch of guys. I think his statement has some merit..
I made a presentation today. I was a bit nervous this morning, and became more nervous as it got closer because it occurred to me that I wasn't the least bit prepared. At the last minute I typed out exactly what I was going to say, and read it. It took 3 minutes. I had 15 minutes allotted. Oh well. Funny thing is, it ended up taking about 25 minutes. :P
I revisited my 5 year plan again, of quitting my job after 5 years. I think it will be a full-time ministry type of thing. At least that's what I'm envisioning right now. One of my Christian co-workers told me that there was no way I could "retire" in 4+ years. I told him to have a little faith.